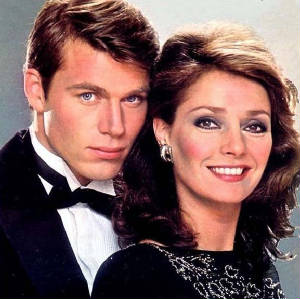 How's
this
for a premise? Jon-Erik is a CIA ex-Green Beret spy posing as a male model, working for a fellow operative (Jennifer O'Neill) who poses as his photographer and modeling agent. Sounds like they took his TV movie,
Making of a Male Model,
and turned it into
the A-Team
. Jennifer probably looked better in a holster than Joan. Jon-Erik probably thought it would be an opportunity to move beyond the hunk image, but unfortunately most of the stories in this Glen Larson series were borrowed from old
Simon & Simon
and
Magnum PI
scripts. Though it promised to deliver exotic locales and a snazzy
MTV
style, most of the exotic lands looked suspiciously like Southern California. This was the show Jon-Erik was working on when he had his fatal accident. He was replaced a few weeks later by former acting class buddy, Tony Hamilton, but the series couldn't tread water without Jon-Erik and was canceled in 1985.
Making of a Male Model (1983) NBC-TV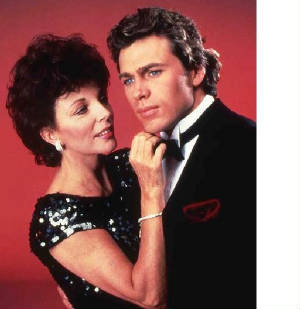 This sweeps-week favorite featured Jon-Erik as Nevada ranch-hand, Tyler Burnett, who, while one day playing around in his crop duster has a near collision with Joan Collins' hair as she happens to be driving through town. As Manhattan super agent Kay Dillon, she doesn't have patience for such behavior. When she angrily confronts him about his reckless plane-steering, she realizes she's happened upon the latest "it" boy, so she ships him off in short order to Gotham, where she grooms and molds him into a professional model.
Complete with a cheesy seventies-sounding soundtrack and an over-the-top performance by Jeff Conaway as Tyler's gay, over-the-hill model-cum-bitter-alcoholic roommate, who shows us what happens when male models turn 40. They get very jaded and a bit hystrionic. Conaway's character finally overdoses, leaving a teary Tyler to comment, "They didn't give you much time on the yellow brick road, did they my friend?"
Though the film is thoroughly campy and cliche-ridden, there is something at a deeper level that speaks about the meaning of success, and Jon-Erik is able to find that conflict and to rise above the material. It's not particularly deep, but then it's not meant to be.
Hotel (1983) ABC-TV
Hotel was a landlubber's Love Boat, a popular 80's show that featured different romantic couples who meet, have an unfortunate misunderstanding which somehow threatens their relationship, and then manage to patch things up by the end of the show. Jon-Erik guest-starred in a 1983 episode as a valiant Prince Charming in this adaptation of the old Cinderella story. Emma Samms plays his romantic interest, a role she performed so convincingly that she continued it for a while in real life.
Voyagers! (1982-83) NBC-TV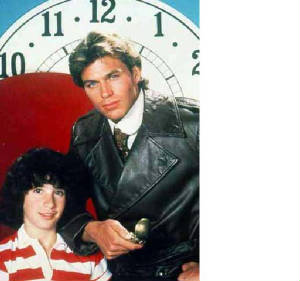 This series catapaulted Jon-Erik from cleaning offices to TV stardom. As lovable and somewhat clumsy history-fixer Phineas Bogg, he ends up on the New York City window ledge of 12-year-old Jeffrey Jones (Meeno Peluce), after his time-traveling device -- the omni -- gets stuck in automatic mode, sending him to 1982. With an exasperated cry of "Bat's Breath!", Bogg breaks through Jeffrey's bedroom window, just as Jeffrey's dog latches on to his guidebook. In the confusion, Jeff and Bogg fall out the window, and promptly disappear into the space-time continuum. Bogg is lost without the guidebook, and his history ain't so good, so Jeffrey sticks around to provide technical information and the two busy themselves making sure it all goes the way it's supposed to. Some of the episodes were superb, and some weren't so superb, but it was a great way to spend a Sunday night if you didn't feel like listening to Andy Rooney drone away on 60 Minutes. Despite the show's popularity among young viewers, Andy managed to woo away the Nielsen ratings, and Voyagers! was soon....history. But it didn't go without a fight: angry fans wrote in, and the show was extended for a few more weeks. Unfortunately, though, it left us with only 20 episodes. Nonetheless, NBC knew they were on to a good idea and revamped the series a few years later, sans mop-topped boy in rugby shirt, and called it Quantum Leap.