August 2008
Jon-Erik Mentioned in New Book
Just released from McFarland Press is a new publication entitled "The Show Must Go On: How the Deaths of Lead Actors Have Affected Television Series", by Douglas Snauffer. There is one full chapter dedicated to Jon-Erik, featuring interviews with EG Daily, Glen Larson, Bob Shayne, Eric Paulsen, Meeno Peluce, James Parriott, and more.
Among other things, the book states that Jon-Erik was conscious for several minutes after the accident, but unable to speak, contradicting reports from other eyewitnesses, and that he had insisted on using the .44 magnum gun that took his life.
Series producer/writer Bob Shayne is said to have dined with Jon-Erik earlier that day at the studio commissary, though in earlier interview with the Jon-Erik Hexum Remembrance Page, he stated that the day of the accident was his first day off since his arrival on the show, and that he was on Catalina Island when the accident occurred.

Cover Up is lauded in the book as having been a great success up to this point, contradicting Shayne's statement in the above-cited interview that he'd come aboard with the show in "big trouble."
The entire facts surrounding the accident may never be known, but the book does succeed in raising a few pertinent questions! It can be yours through amazon.com, for just $39.95!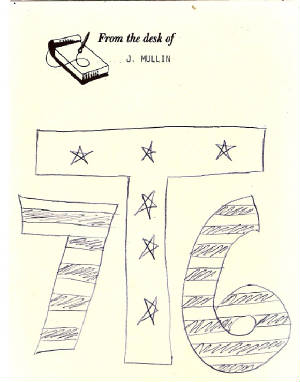 Now Available: Jon-Erik, in His Never-Before-Seen 1976 High School Movie! Donated by JP Mullin
Long before Hexum's Hollywood days, he appeared with his fellow seniors at Tenafly High School in The Class of 76 Senior Movie, a 61-minute, "uneducational documentary" depicting campus life that school year. There were dances, the Ms. Magazine Sale, The Lack of Talent Show, as well as other skits and sketches performed by the class (and faculty) in true Monty Python style.
It was recorded on now-extinct EIAJ open reel video, which was a precursor to VHS. It's been sitting untouched in senior class advisor JP Mullin's attic for over 30 years -- until now, that is! JP Mullin has graciously donated this never-before-seen tape to the Club, and we were able to locate a facility able to work with its extinct format -- now, at a rather substantial cost, we have had it transferred to DVD!

In addition to the DVD featuring the Tenafly High Class of '76 Senior movie, we have also acquired and transferred the 96 minute "Lack of Talent Show" -- which has now been unveiled for the first time since 1976 -- and portions thereof posted on this website!
Voyagers! The Complete Series -- Now Available on DVD
All 22 episodes of the time-traveling series starring Jon-Erik and Meeno Peluce were released as a single DVD in the summer of 2007. Now available at your local DVD retailer or amazon.com for about $36.99...or so...
Remembering Alex

Through the life of the Hexum Fan Club there have been half a dozen individuals who made the whole thing happen, through their contributions of time, working energy, materials, knowledge and personal perceptions. Alex Knezevic was one of these individuals, and the one whose contribution was the most durable in time. Alex was practically single-handedly responsible for the Hexum Scrapbook: more than half of the materials in it were from his first-run off-air captures of Hexum's career as it unfolded. Several more were acquired through his personal effort. The Scrapbook contains all the known footage of Hexum—all that is extant. A few other items are known to exist, but these appear to have been lost. Alex was the one who tracked these down, and managed to capture a few of them. From 1985 through 2001 Alex lovingly prepared the dubs which were ordered by Club members, and he did it on his own home equipment. In ill health for years, Alex faithfully performed these duties until crippling arthritis finally made it impossible for him to continue. Although we have taken over Alex's shepherding of the Hexum videos, we acknowledge that, one way or another, Hexum fans owe their thanks to Alex for every single inch of footage of Jon-Erik Hexum. Alex was born in Europe in 1940. The land of his birth, Croatia, was also the land where the great composer, Franz Josef Haydn, came from. After World War II his homeland was swallowed up into Yugoslavia, and Alex emigrated world-wide, working in television and radio. Eventually he went to Hollywood, where he wrote and broadcasted for years as Alex Kennard, and that is where he met Jon-Erik on the "Voyagers" set. There never was kinder, gentler, more faithful man than Alex. I worked with him over the miles, all those years, and his industry, knowledge and effort were always available and active on behalf of Hexum, on behalf of those who admired him. Alex's documentation of Jon-Erik's work remains for us all to contemplate, celebrate and enjoy for years to come. Alex's video work insures that. The Jon-Erik Memorial Library is the fruit of Alex's work. There is no adequate way we can thank him for what he has done for all of us, over all those years. Alex died on Christmas Eve, 2005, after a harrowing medical odyssey, including surgeries and amputations. He had wanted his ashes to be scattered off the beach at Malibu, where Jon-Erik's were given back to Nature. Instead, the ceremony will be performed in the Atlantic, this coming summer. Hilda, his wife of many years, was sweetly philosophical about the compromise: "It's all the same ocean. God will bring them together in his own good time." Her sweetness and equanimity are a further tribute to Alex. As with Hexum himself, I never met Alex in person, never shook his hand, never had a sit-down conversation with him. Every scrap of our work took place over the telephone or by letter. Still, our dialogue was voluminous, and its product—all the Hexum videos—remains for the world to enjoy, for as long as our doors are open. Farewell, Alex! We shall all miss you; and as we remember Jon-Erik, we shall also remember you and all you have done for us.
-- Alan Carell, Portland, OR, May 20, 2006
Unfinished Business: The Continuing Life of Jon-Erik Hexum

The Fan Club officially announces the release of its 45 minute biographical retrospective on the life and career of Jon-Erik Hexum. Featuring photos and clips of his early life, professional work and interviews, this presentation is the most thorough tribute ever created on behalf of Jon-Erik. It is currently being offered free to club members in exchange for a suggested donation. For details, please contact Alan Carell at Alan_Carell@yahoo.com!